You may always call us with a payment if you would prefer. Also, we have a secure credit card system if you would like us to store your card information for the future-just ask to put a card on file!
We offer two easy, convenient, and secure ways to pay your bill online.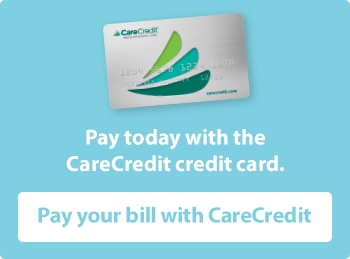 We proudly accept the CareCredit credit card to help you finance your healthcare needs. Now you can pay online with CareCredit to help pay at the time of care, when you get a post-care bill, or up to 30 days before your appointment, quickly and securely. Special financing options are available.*
Visit the CareCredit website to pay with your CareCredit credit card.
Don't have CareCredit? Apply here or learn more by visiting the CareCredit website today.
*Subject to credit approval. Minimum monthly payments required. Promotional financing options are available on purchases of $200 or more. Standard Account Terms apply to purchases of less than $200. Promotional financing options available through Pay My Provider may differ from options available in-office. See www.carecredit.com for details.